(07) BRIDGE APP. (2019) STUDENT PROJECT.
(TYPE) BRANDING, UX/UI, INTERACTION DESIGN.
OVERVIEW

Bridge is an immigrant advocacy app that serves as a defense tool and educational resource fo unexpected encounters with ICE and other deportation officials. This app was designed as a speculative product extension for RAICES, the largest immigration legal provider in Texas. The mission of RAICES is to defend the rights of immigrants and refugees, empower individuals, families, and communities, and advocate for liberty and justice.



RECOGNITION

SXSW INNOVATION LAB | Designing Mobile Apps for Diversity & Inclusion
AIGA FLUX DESIGN COMPETITION | Best in UX/UI Category


PROBLEM

Under the current administration, tensions at the United States Southwest border have grown and many families have been left seperated, in danger, or in fear. With the amazing work RAICES is doing, I saw an opportunity to address how design and technology can be used to design a new tool that will help empower, prepare, and protect the immigrant families and asylum seekers they advocate on behalf of.



EXECUTION

The outcome is a billingual app that allows undocumented immigrants to add contacts to a support network that can be sent alert messages in times of crisis at the click of a button. The app also includes access to rights education, a readiness checklist, photo/video/audio recording capability, a 24/7 RAICES Hotline, and other resources. Through designing this app, I believe we can provide undocumented immigrants with tools to to defend their rights and live in less fear. I also believe we can create a wider dialogue about inclusion and advocating for all human rights. It's important that we all work harder to understand each other's situations and lend a hand where we can. This project is dedicated to RAICES and all the other heroes out there fighting day to day for justice, fairness, and equality for all humans regardless of race, ethnicity, nationality, sexual orientation, gender identity, ability, religion, or socioeconomic class.
---
While developing the brand identity, it was important for me to keep in mind how I could use color and typography in a way that wouldn't appear daunting or off putting to the user, but instead feels warm, safe, and trustworthy. The concept for the name Bridge was derived from the idea of creating a connecting and supporting structure that gives undocumented immigrants access to hope and safety. The name was inspired by a direct quote from RAICES that states, "We believe in bridges. Not tents. Not cages."
---
RESEARCH & DESIGN THINKING
To conduct preliminary user research, I used the IBM Enterprise Design Thinking Methodology as a guide to help me better understand the users and their needs. This process allowed me to uncover insights that informed the strategy, tone, and design decisions for the app experience.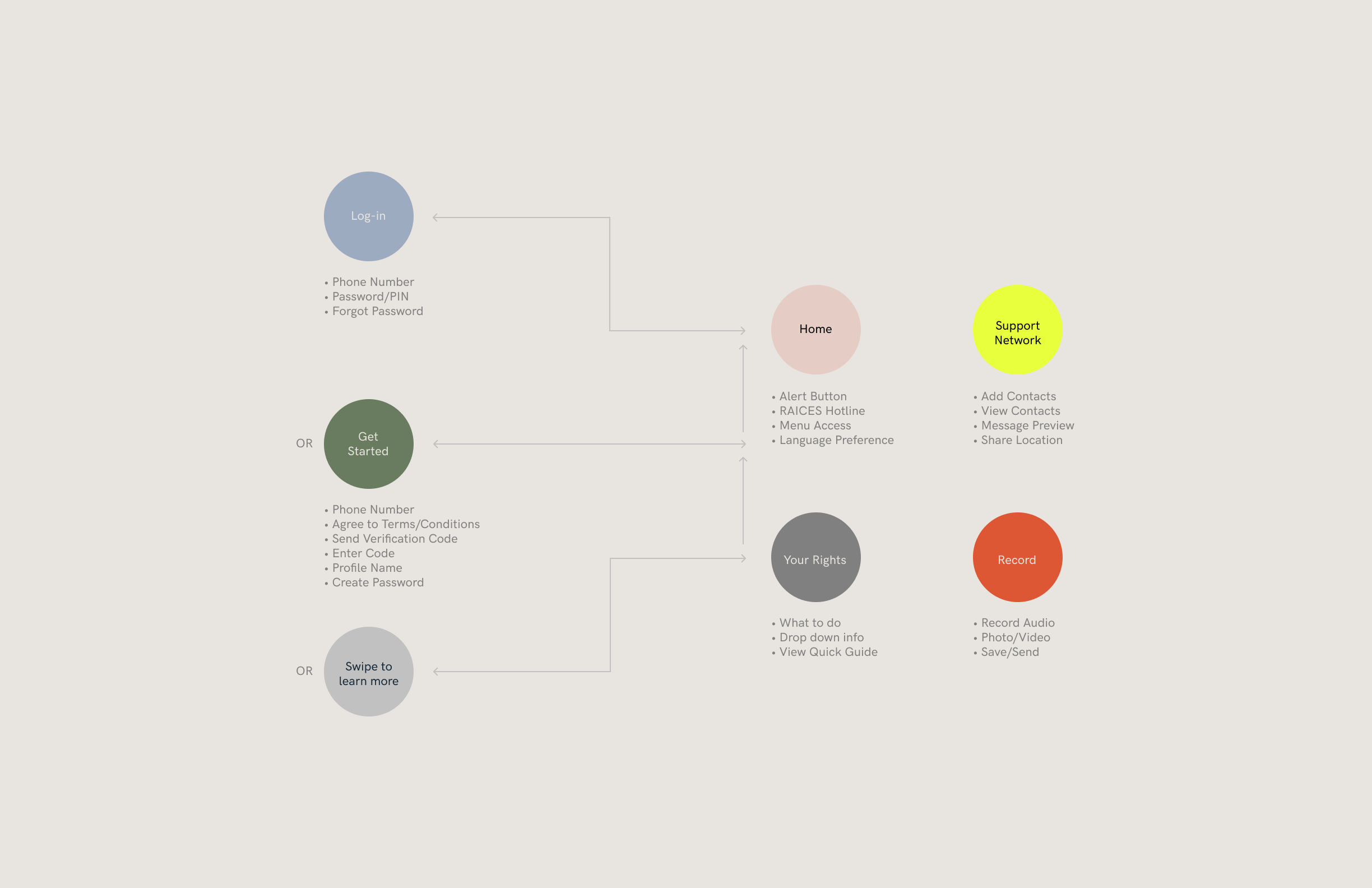 ---
The onboarding process begins with a Getting Started screen that allows the user to swipe for short blurbs that explain the app's primary functions and their importance. Once they have swiped through and choose to continue, they are prompted to enter a secure phone number, profile name, and password.
---
BUILDING A TRUSTED LINE OF DEFENSE
Once the user has set up their profile, they are able to add trusted contacts to their Support Network. The user is able to customize the alert message that would be sent to their contact when engaging the Alert Button in a time of crisis. Language preference of the alert and location sharing is also available.
---
The primary function of the Bridge app is the ability to send alerts. The home dashboard is comprised of just two buttons: an alert button and a RAICES Hotline button. The dashboard was kept minimal to ensure a quick and easy alert action for the user. The Alert button is engaged by tapping rapidly for a couple of seconds, as opposed to holding the button. This decision was made to help minimize user error and accidental alerts.
---
The app also offers photo, video, and audio recording capability to encourage users to document evidence of injustice.
---
RIGHTS EDUCATION & PREPAREDNESS
Rights education is provided as a key feature in the app, which plays an integral part in helping immigrants and refugees understand what they need to know in order to better defend themselves and their families. This section of the app gives clear instructions for what to do during a situation with ICE. Users also have access to a Preparedness Plan and other resources that may serve as added layers of defense.
---