(05) DROPBOX FOCUS. (2020) STUDENT PROJECT.
(TYPE) BRANDING, ART DIRECTION, UX/UI.
OVERVIEW

Dropbox Focus is photo archiving system that uses smart features, metadata tagging, and suggestions to help you organize and find your photos more seamlessly. The product was designed as a brand extension for Dropbox as an opportunity to utilize their emerging machine learning technology in the context of a photo-based mobile and desktop application.
ART DIRECTION/STRATEGY | Logan Brannen,
Ivan Alvarado
ADVERTISING/COPYWRITING | Logan Brannen,
Ivan Alvarado
MOBILE APP | Logan Brannen,
Ivan Alvarado
DESKTOP APP |
Ivan Alvarado
EVENT DESIGN | Logan Brannen,
Ivan Alvarado
PROMO PRODUCTS/EPHEMERA | Logan Brannen,
Ivan Alvarado
MOTION GRAPHICS | Logan Brannen
CHALLENGE

In today's digital age, most of us spend a significant (slightly disturbing) amount of time on our smart devices, hoarding thousands of photos from day to day life that almost seem impossible to sort through. Dropbox faces the challenge of solving people's photo glut problem with a functional photo system that lives and breathes hassle-free.


EXECUTION

The outcome of the brand extension is a brand strategy that informs a flexible, energetic new identity and messaging tone, the UX/UI design of the Dropbox Focus app, brand activation through a social media campaign, SXSW-targeted product advertising, as well as the product launch through an organized SXSW event.
---
Before designing the visual identity, we surfed through Dropbox's current design system, allowing us to better understand the strategy behind their brand guidelines. This inspired us to create a flexible identity system that injects the same vibrant energy and freshness, while still maintaining sharpness and consistency. The idea was to represent an ever-changing photospace and emphasize the notion of focal points.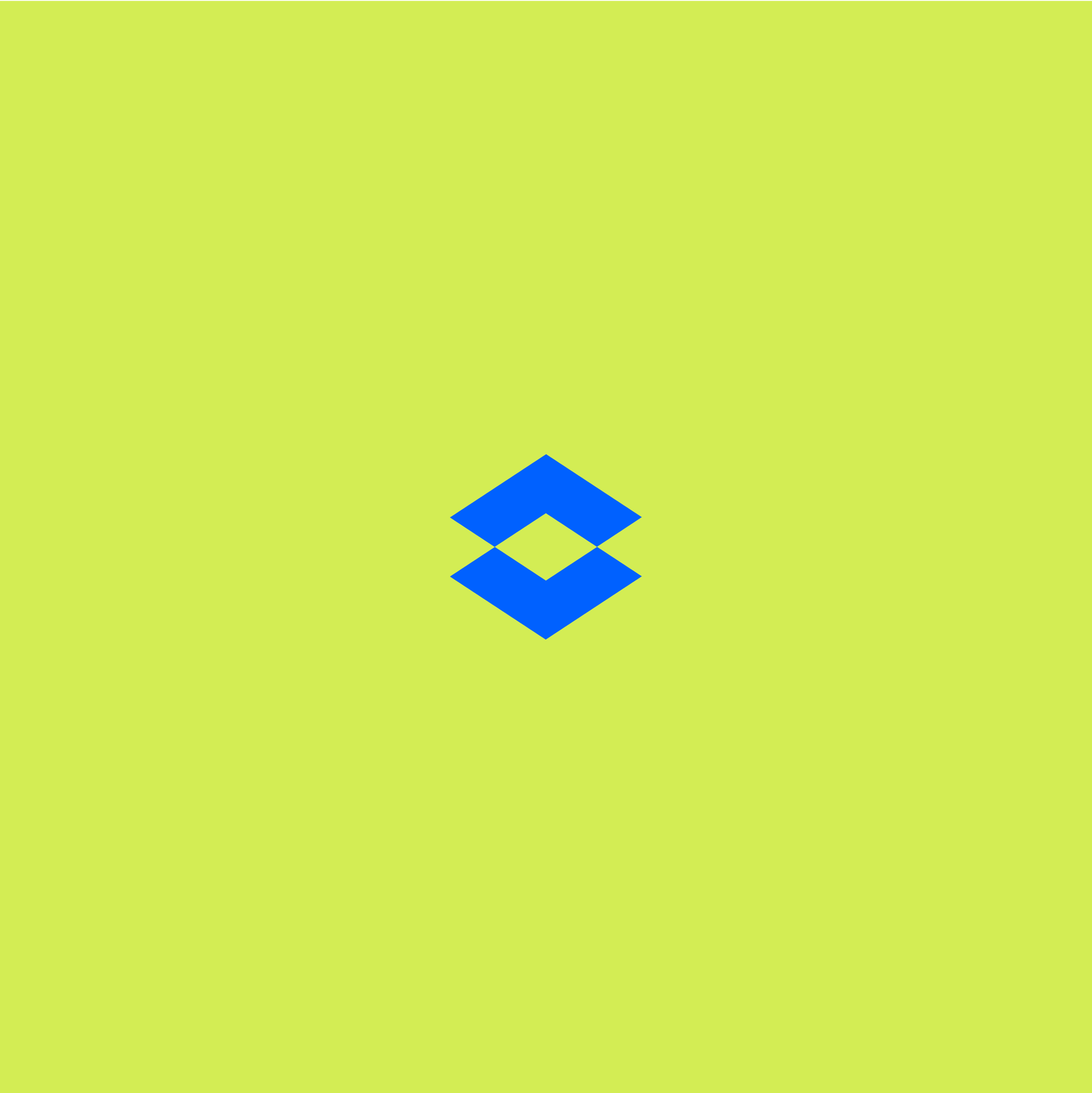 ---
The aim of the advertising campaign is to express the brand through a series of general product-driven ads that introduce the product, as well as a series of horizontal street ads targeting people navigating the streets of SXSW. We incorporated conversational copy and calls to action to encourage people to learn more on the Dropbox Focus microsite.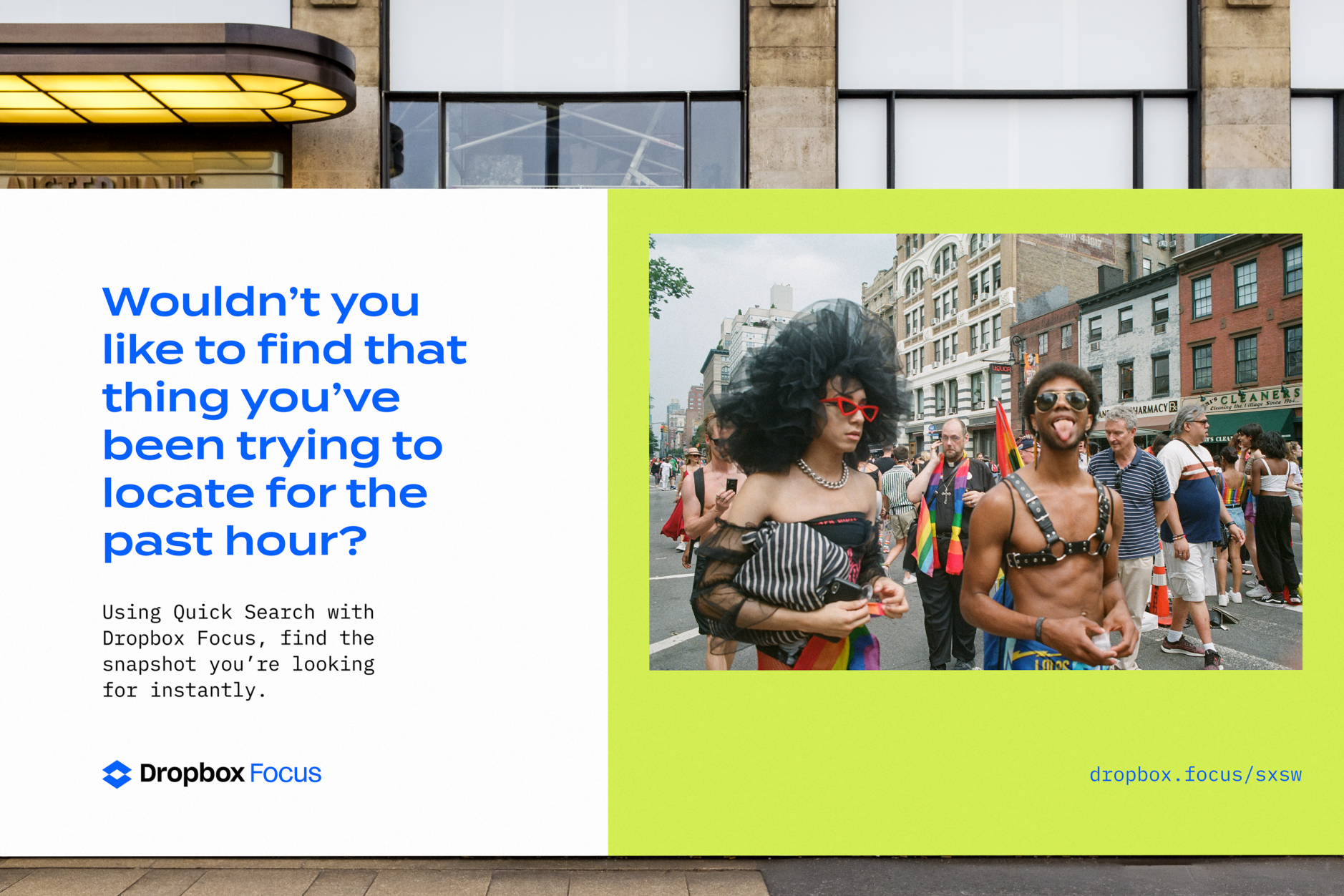 ---
The social media campaign was used to reflect the smart tagging feature of the Focus app in an interesting way. It showcases a range of colorful snapshots that have their own unique tags to give a sense of how this feature could be utilized within the app. The social media page helps to tie the general ad campaign and Focus Fest together.
---
ESTABLISHING DIGITAL TOUCHPOINTS

For a company driven by technology, it was important to include a series of digital touchpoints to showcase how the brand interacts on screen. These touchpoints include moving street ads and Instagram stories. We also created a Dropbox Focus microsite that people would be lead to when visiting the link seen on social media or advertisements. The Dropbox Focus microsite introduces the product and hints at its unveiling at an event called Focus Fest at SXSW. Once visitors download the app and register with their email on the microsite, they receive an email from Dropbox Focus that provides an invite link they can download. This prompts an official invite to Focus Fest to populate in their app.
---
DESIGNING THE DROPBOX FOCUS APP EXPERIENCE

For designing the Focus app experience, we chose to take a minimalistic approach that is reflective of existing Dropbox interface design.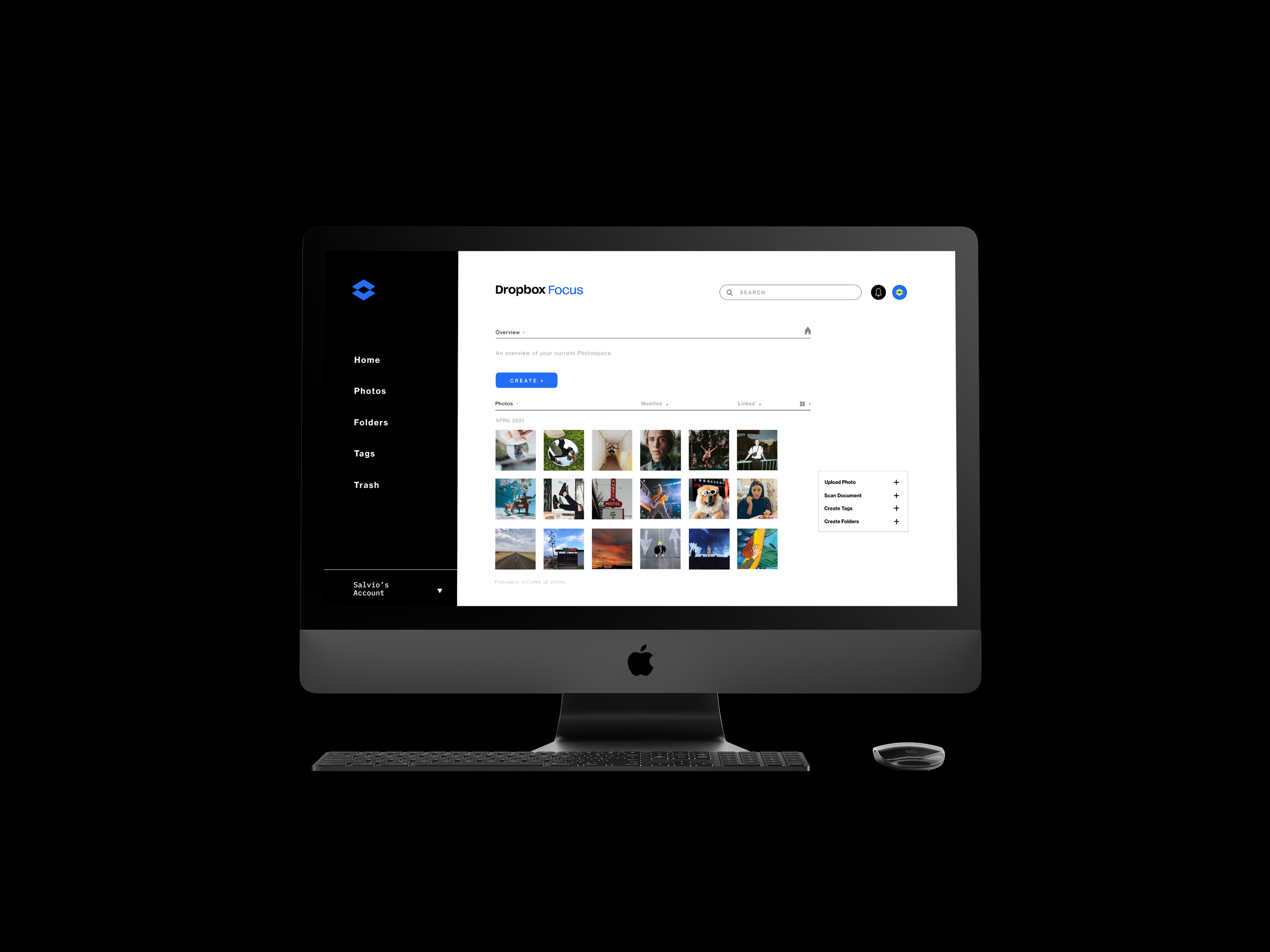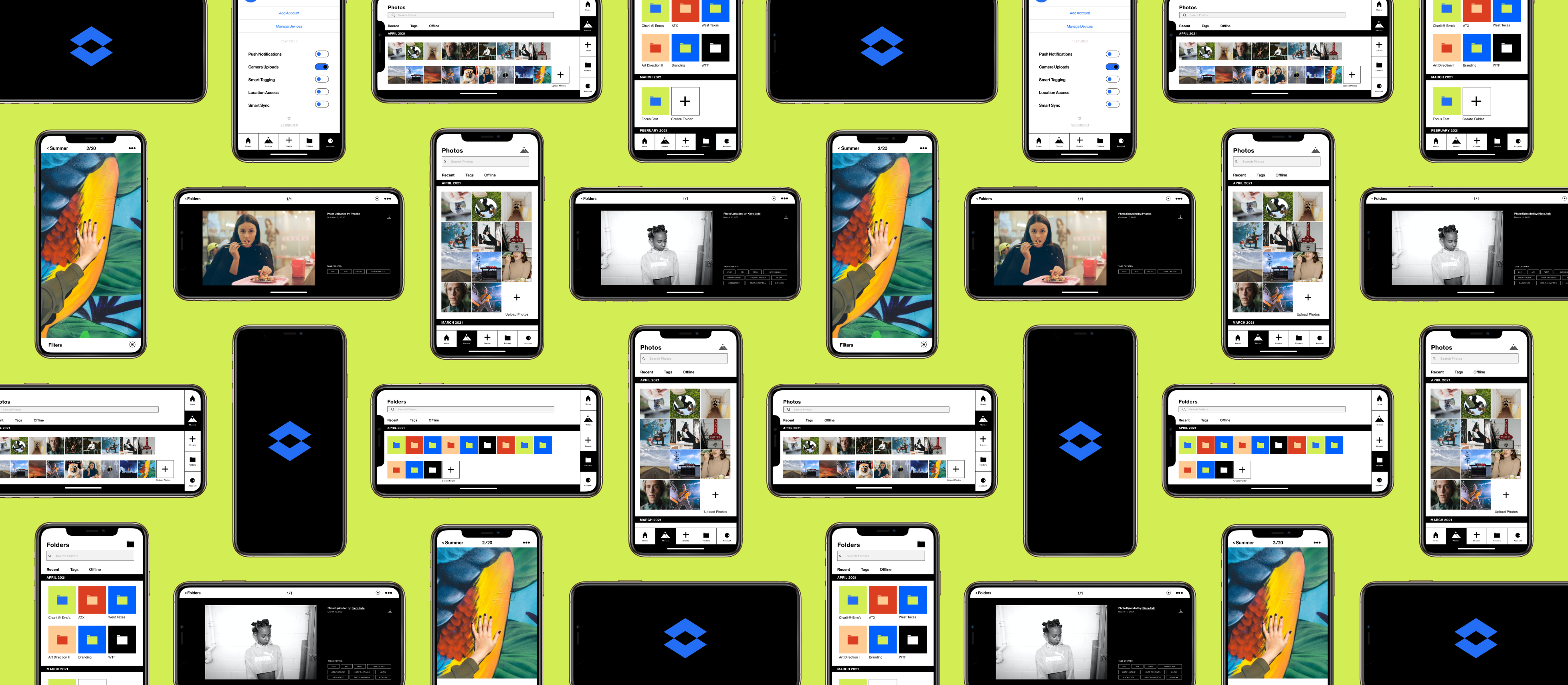 ---
PRODUCT LAUNCH AT FOCUS FEST

Focus Fest is a compact music festival designed to serve as the official launch party for the Dropbox Focus app. With SXSW being a premier hub for tech innovation, we decided this would be the perfect setting for the event to take place. This party not only showcases the smart photo app, but brings together a lineup of all Texan music acts to rock out at the Mohawk. With a beer sponsorship and collaboration with Lone Star Beer, Focus Fest celebrates talent and innovation in true Austin taste.