(01) MILEIQ. (2022–2023) SELECTED WORKS.
(TYPE) PRODUCT DESIGN, VISUAL DESIGN, ART DIRECTION.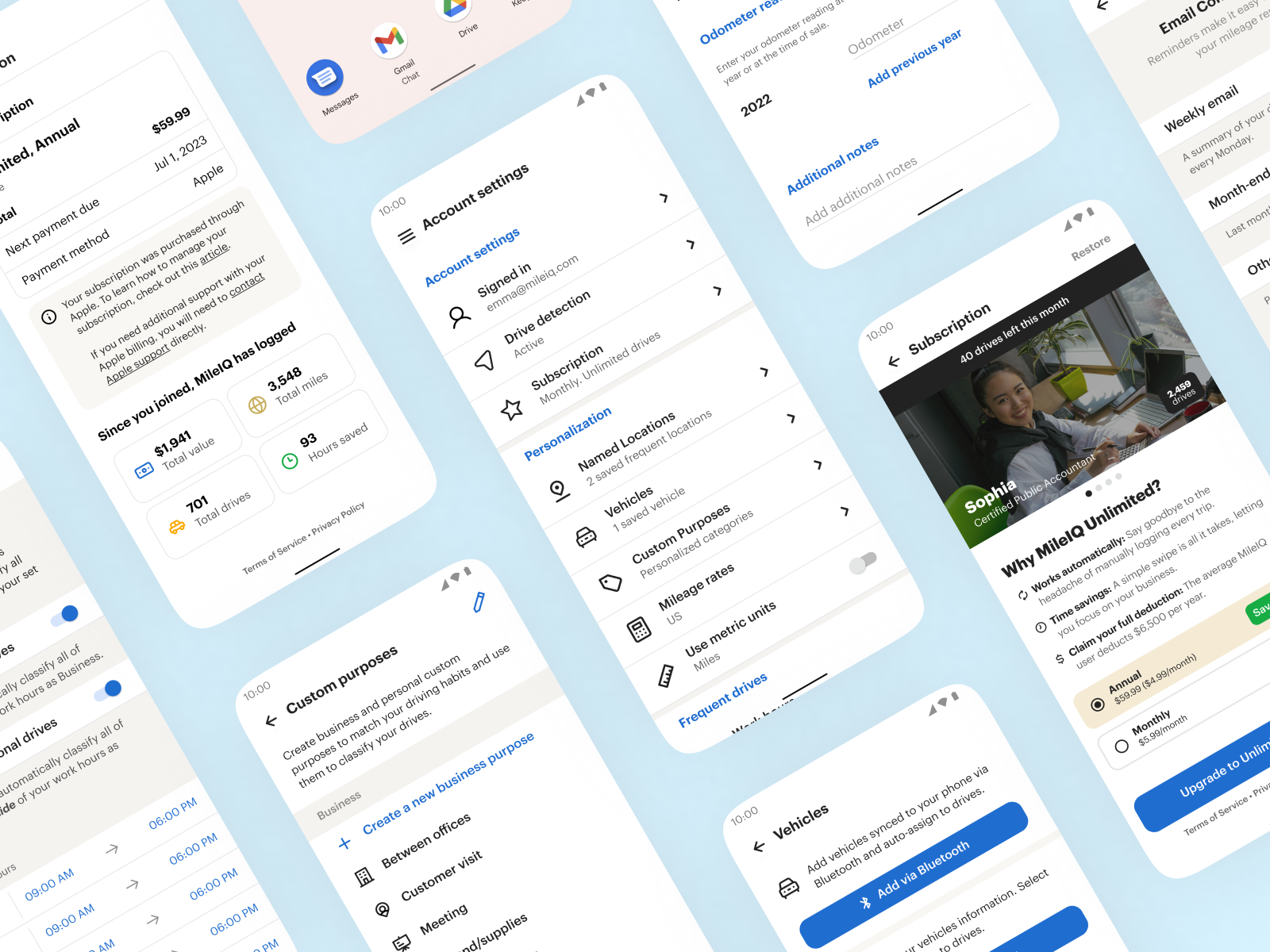 OVERVIEW

Headquartered in San Francisco, MileIQ is a mileage tracking app that automatically logs your drives and calculates their value for taxes and reimbursements. With a mission to make mileage tracking easy and effortless those who drive for work, MileIQ is saving drivers time and money every year. Along with the iOS and Android app for individual drivers, MileIQ also offers a mileage tracking solution for businesses called MileIQ for Teams.


ROLE

During my time at MileIQ, I partnered with the Head of Design and UI Lead to tackle a variety of user challenges and design initiatives including an iOS/Android mobile app redesign, website facelift, MileIQ for Teams dashboard optimization, and more. I also owned all marketing-related design such as social media, email campaigns, and other brand collateral used to drive growth.

---
SUBSCRIPTION PAGE REDESIGN
The goals of the Subscription page redesign project were to communicate the value of the MileIQ Unlimited plan, provide a seamless upgrade and subscription management experience, as well as to highlight key stats for users to better understand the impact MileIQ has had for them. The flow prototyped below is an iOS free user upgrading to MileIQ Unlimited, however many other flows had to be considered and designed for different user types. Some of those flows include downgrading from an Unlimited to Free plan, managing/canceling a subscription, and expired subscriptions.
---
Prior to this project, the Custom Rates feature was buried multiple levels within Settings making it inaccessible for Team admins to quickly find. The goal of this effort was to surface the feature at a higher level and provide team admins with the ability to easily track and customize their company's mileage rates. In order to make this feature more accessible, it was surfaced in the side navigation. The outcome for V1 allows admins to change their current rates, set future rates, view rate history, delete rates, and reset their rate to the IRS default rate. Because MileIQ also has a user base in UK and Canada, the layout of the feature for those was slightly different as they have multiple customizable mileage rates to account for. The US version is the one prototyped below.
---
The problem that prompted the Cold Start project was the fact that many users were creating MileIQ accounts, but were landing in the app for the first time on a blank screen with no education or guidance. This became both a point of friction and dropoff, so the goal here was to think about how we might better familiarize users with key features upon landing in the app so they'd be empowered to know what to do once they start logging drives. The outcome was an optional 3-step profile completion prompt that guides users to key actions that would make their lives easier prior to hitting the road. These steps included prompting users to add a home and work address, add a vehicle, and enable work hours so MileIQ can automatically classify drives as business during their work time. The plan for testing was to test the experience on Android first to gather any learnings prior to testing on iOS.