(08) VUE APP. (2019) STUDENT PROJECT.
(TYPE) BRANDING, UX/UI, INTERACTION DESIGN.
OVERVIEW

The brief for this project was to design a mobile app related to one of the five senses that either connects, engages, expresses, optimizes, disrupts, or empowers. Inspired by a color blind peer with Enchroma glasses, I chose to focus on exploring the sense of sight and how I could create a disruptive app that uses speculative color fix scanning technology to solve fashion challenges. Vue is an app that enables colorblind men to explore the world of fashion without having to rely on anyone else.


PROBLEM

1 in 12, or 8% of all men, struggle with some form of color vision deficiency. Colorblindness can present challenges when it comes to color-coordination, color identification, outfit selection, and clothing organization. How can we leverage color correction technology to empower individuals to further explore the world of fashion?



EXECUTION

The outcome is a mobile app that enables colorblind men to further explore the colorful world of style through relevant news, outfit matching suggestions, and a color-calibrated smart camera that allows them to scan items to better decipher true colors while shopping. The app also includes color fix settings that allows users to tailor the way colors look on the screen based on their colorblindness type.
---
While developing the brand identity, it was important for me to keep in mind that using a monochrome (black, white, and grey) color palette would be ideal to minimize users from having difficulty viewing or navigating the app. I chose to pair a Swiss sans-serif typeface with a serif typeface to channel a casual, editorial feel while still providing clarity.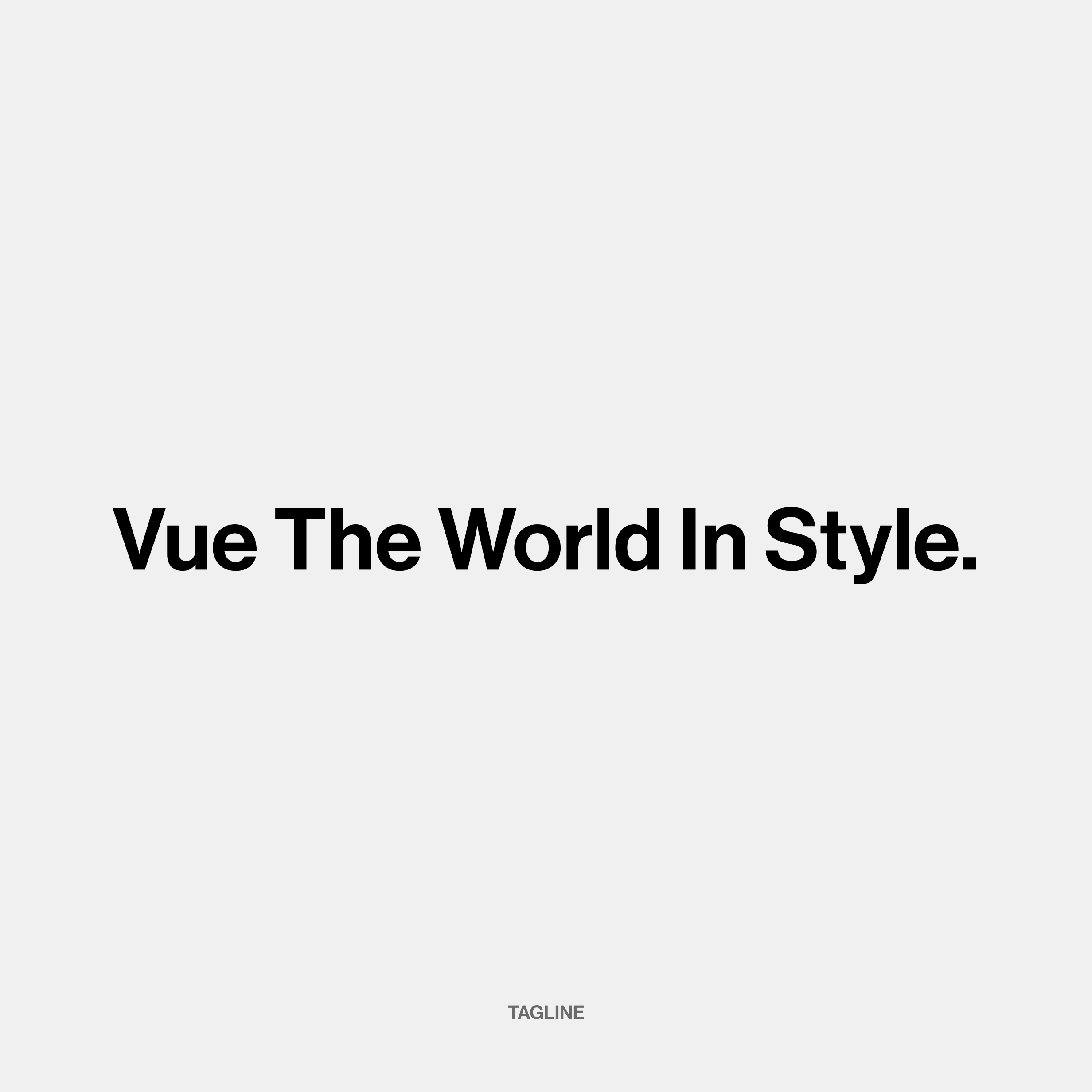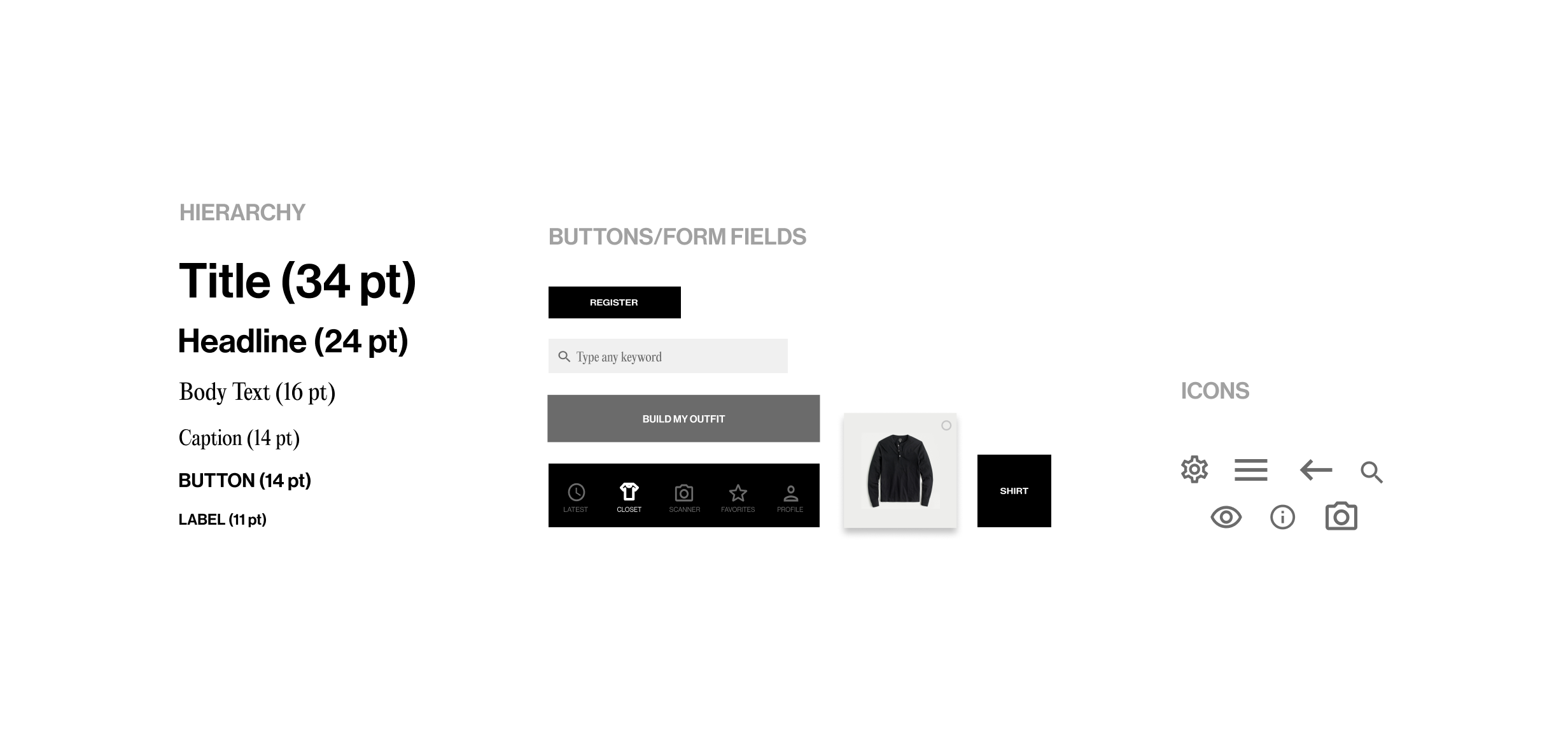 ---
RESEARCH & DESIGN THINKING
To conduct preliminary user research, I used the IBM Enterprise Design Thinking Methodology as a guide to help me better understand the users and their needs. This process allowed me to uncover insights that informed the strategy, tone, and design decisions for the app experience.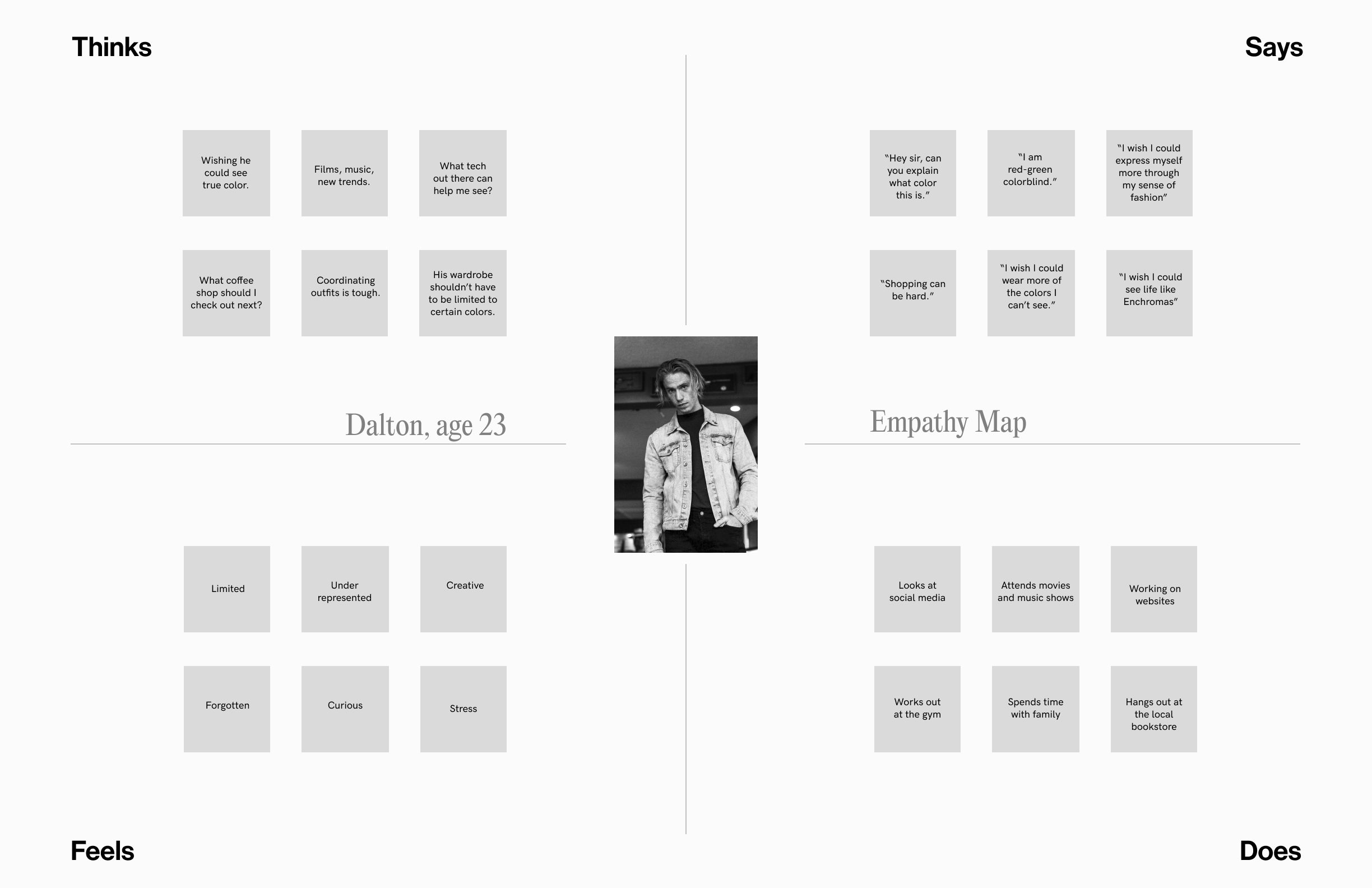 ---
The onboarding process begins with a Register/Sign In screen that allows the user to create a Vue profile by entering their email and a secure password.
---
Once the user has set up their profile, they are taken to the home screen of the app, which is a newsfeed of trending men's fashion articles to provide a source of inspiration to the user. The user is also able to utilize a search feature to type in keywords that will populate articles based on the clothing items or article types they are looking for.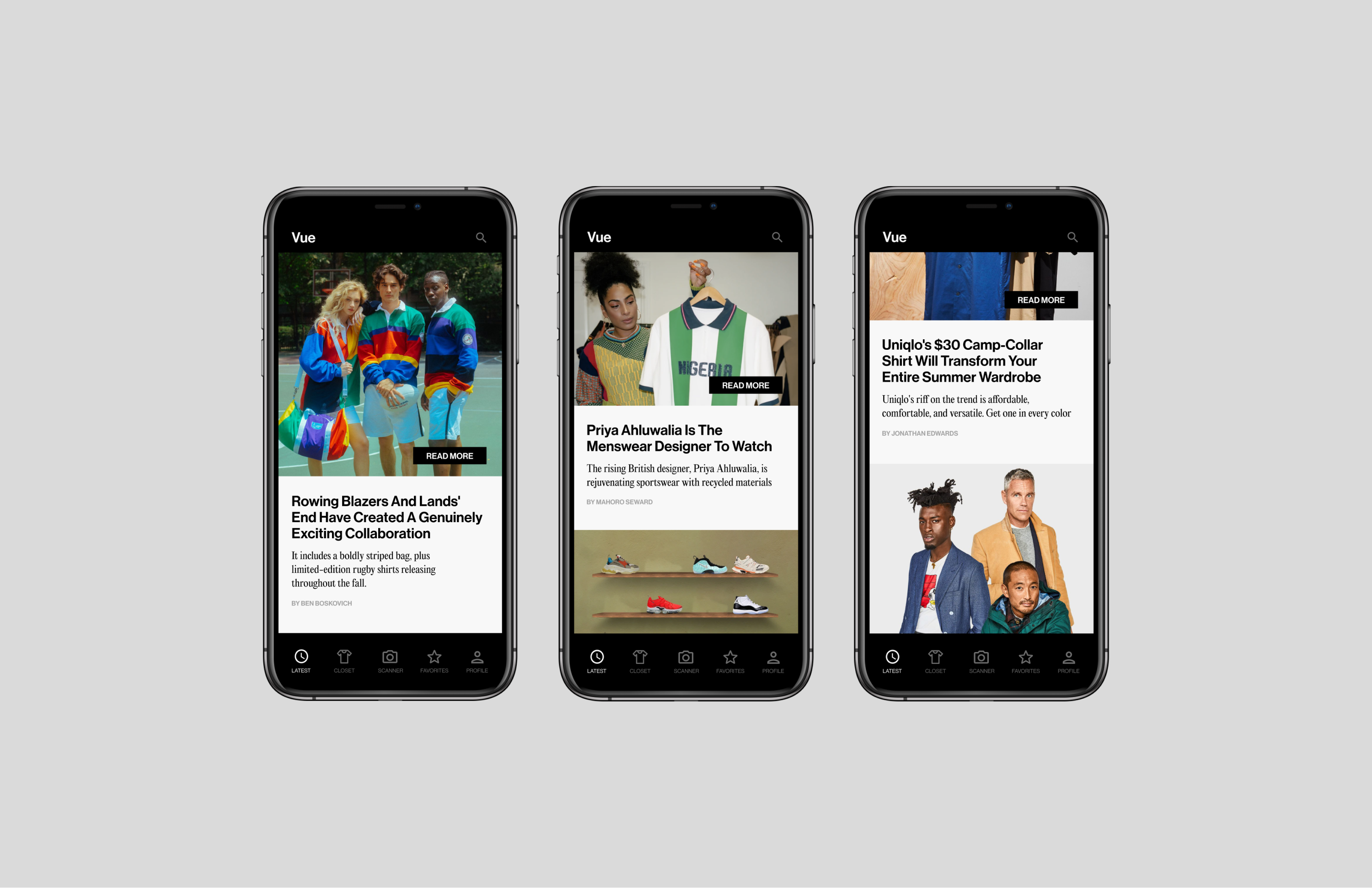 ---
One of the key features of the app is the Virtual Closet. This feature allows users to scan clothing items from their closet into a Virtual Closet in the app. Here they are able to sort their scanned items by category.
---
Another key feature of the app is the ability for users to generate outfit matching suggestions from the items saved in their Virtual Closet. This feature is designed to helps users that have trouble with color coordination when selecting their daily fit. If the user isn't feeling the suggested fit, they can click the 'Try Another Look' button for another suggestion.
---
The Vue Scanner is the highlight feature of the app. This feature allows the user to activate a color-calibrated smart camera that allows them to inspect clothing items to better decipher their true colors. Within the Vue Scanner, users are also able to manually enable color fix controls based on their color vision deficiency. Once the user has selected their color fix controls, they are then able to use the 'Filter' mode to apply a filter over the item they are inspecting for a more accurate representation of what it looks like in full color.
---