(09) WINC. (2019) STUDENT PROJECT.
(TYPE) BRANDING, ART DIRECTION.
OVERVIEW

Winc is an online wine subscription service that was founded in 2012 with the goal of revolutionizing the way people explore, buy, and share wine. By working directly with vineyards, independent winemakers, and customers, Winc takes a collaborative homegrown approach to creating personalized wine selections that are tailored to an individual's taste. Winc is currently the only wine service creating and curating affordable wine selections inspired directly by customer feedback.
ART DIRECTION/STRATEGY | Logan Brannen,
Ivan Alvarado,
Hope Stephens,
Selena Contreras
ADVERTISING/COPYWRITING | Logan Brannen,
Ivan Alvarado
WEBSITE/APP DESIGN | Logan Brannen,
Ivan Alvarado,
Selena Contreras
PROMO PRODUCTS/EPHEMERA | Logan Brannen,
Ivan Alvarado
PALATE QUIZ REDESIGN | Logan Brannen,
Hope Stephens
PHOTOGRAPHY | Logan Brannen,
Ivan Alvarado,
Nikita Sveshnikov
RECOGNITION

GRAPHIS NEW TALENT ANNUAL |
Branding Silver Award Winner Spring 2019
CHALLENGE

Due to the rise of tech-enabled wine services offering personalization and customization options, Winc faces the challenge of differentiating itself from other competitors in order to appeal to a growing gen-x and millennial audience. In a market historically deemed exclusive and expensive, we saw opportunity in helping Winc reinvent the perception of wine by updating their visual brand and messaging system to have a youthful appeal that better connects with their audience.



EXECUTION

With Winc's knack for collaboration and youthful appeal in mind, we developed a colorful, inclusive visual identity reflective of many tastes. By embracing humor and approachability, we also worked to establish a savvy and spirited brand voice that could be implemented across platforms. The rebrand also included a message-driven ad campaign, a social media overhaul, website/app interface updates, and an enhanced unboxing experience.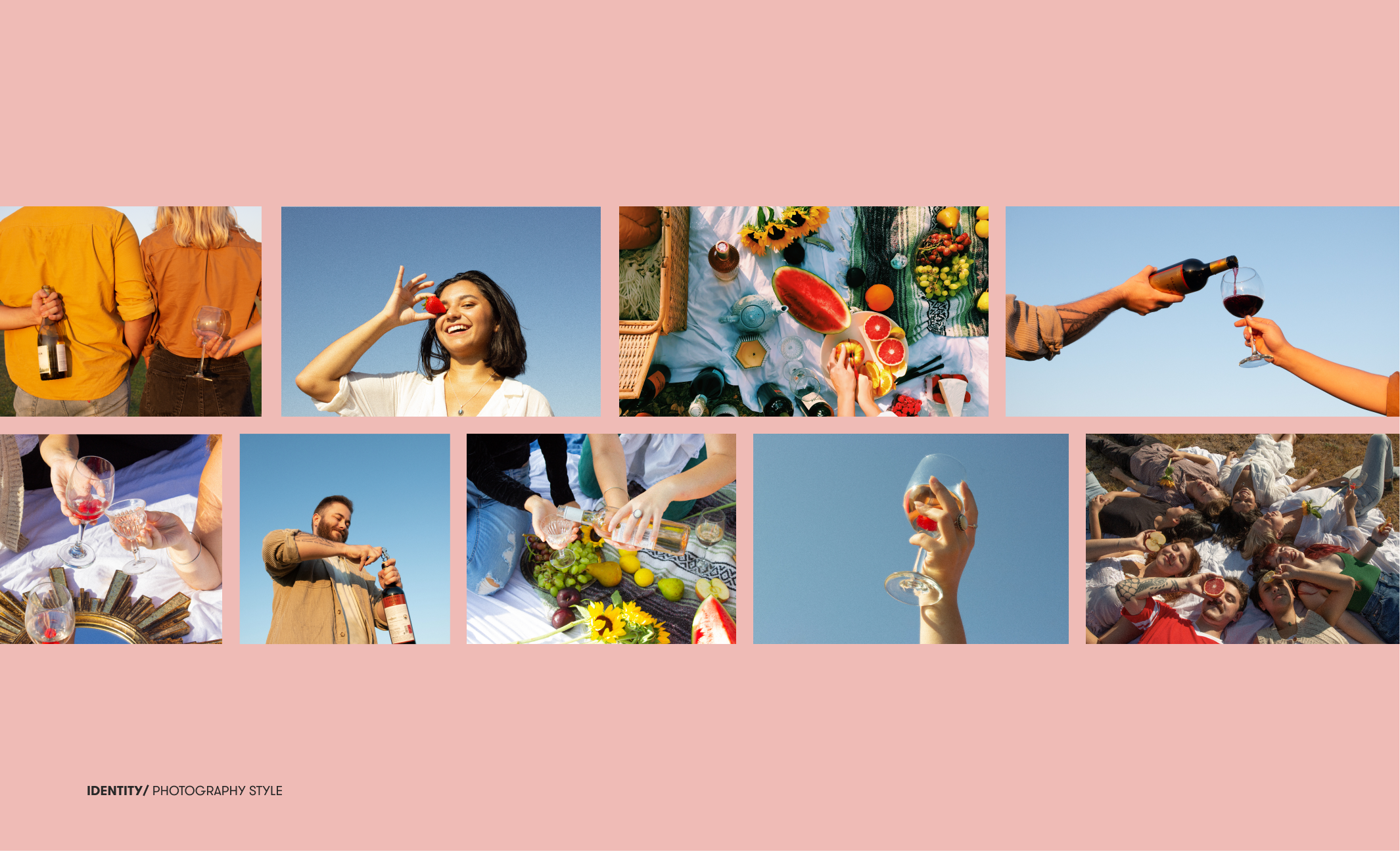 ---
With a millenial audience that is always on the go, we wanted to target the areas they may frequent on a daily basis. The ad campaign consists of street posters and subway ads that pair uplifting, airy imagery with slightly cheeky, conversational copy.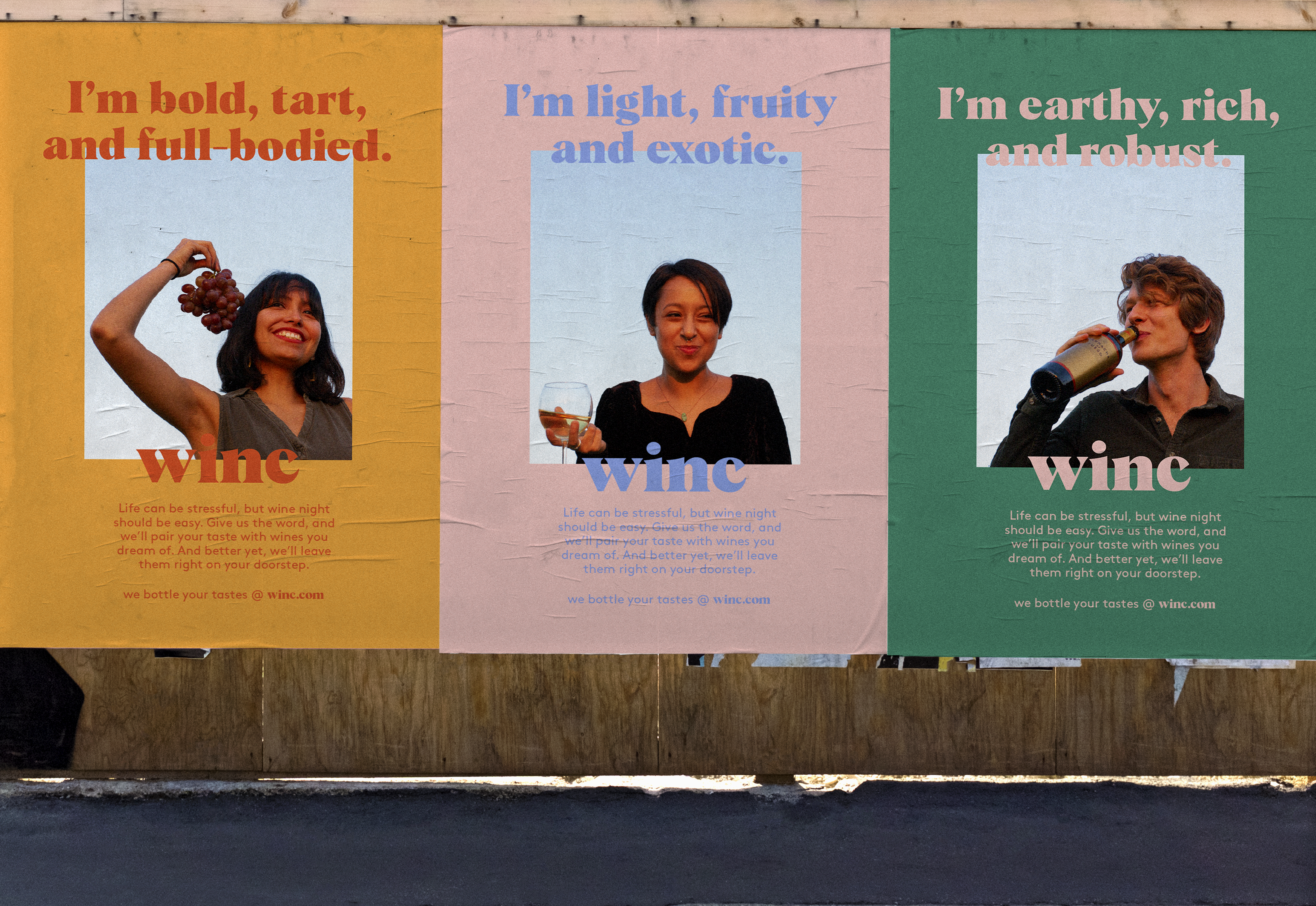 ---
The goal of the social media campaign was to lead with a youthful energy and an emphasis on collaboration to reflect Winc's approach to making the wine experience more personal and accessible. Friendly group imagery was used to capture a range of individual tastes and moments of coming together. The Winc instagram page also includes wine tips and tricks, new wine releases, and a meet the winemaker series.
---
WEBSITE & WINC PALATE QUIZ REDESIGN
In order to ensure that the visual brand and messaging tone was carried through on digital platforms, we decided to update the Winc website and palate quiz. The aim of redesigning the Winc palate quiz was to rewrite the questions to be more playful, informative, and relevant to understanding the user's taste preferences.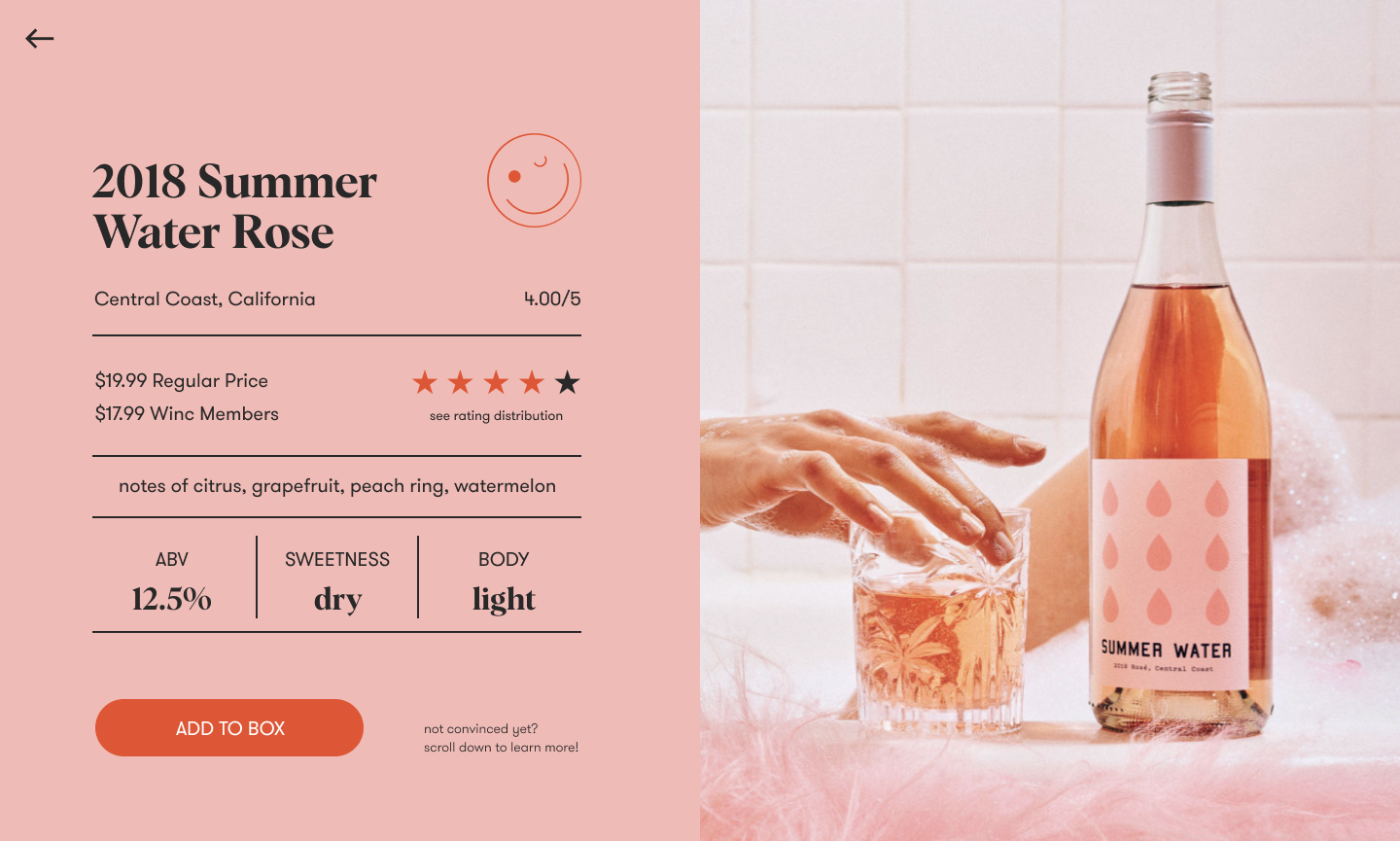 ---
To build brand loyalty and provide a more unique experience to members, the Winc app update is centered on to giving Winc members special perks and benefits that aren't offered on the Winc website. Features include access to a Winc blog feed, expedited ordering, a personal profile, rewards, and a wine label scanner.




---
UNBOXING EXPERIENCE & PROMO PRODUCTS
To further delight the wine unboxing experience, we took a modern approach to redesigning the subscription box. We created wine pairing cards, tasting note cards, stickers, thank you notes, and brochures that could be included inside the box when receiving an order. With a look towards the future, we also decided to rollout a new promotional product line that includes Winc Snacks and Winc Hard Seltzers.